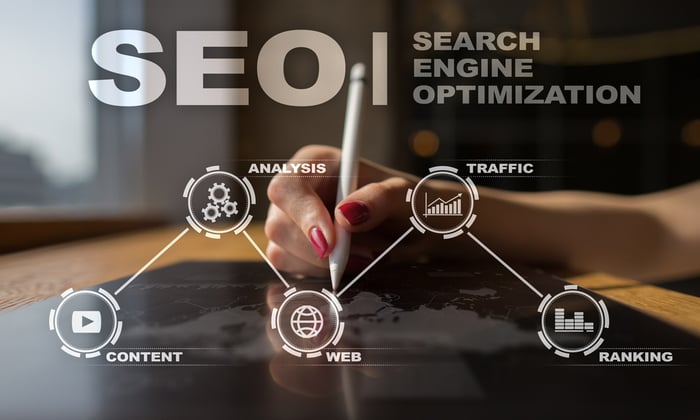 Local SEO doesn't have to be hard and these 7 tips will make it a lot easier to get the results you need.
1) Take Charge Of Your Listing On Google My Business
Google My Business is a platform that gives you free control of the way your company appears in local searches.
The important parts of your Google My Business profile are the key pieces of information that local customers will want to know according to Cormac Reynolds of Irish SEO agency eCentres.ie. These include the name of your business, its location, its hours of operation, and a link to your website. All of this information is extremely important for attracting new customers, so you want it to be accurate.
Google users can filter local business search results by operating hours. (It's especially important to have this information correct in the current retail climate!) To get the most out of your profile, though, you'll want to have accurate, useful information in every possible section. That includes photos of your premises and products. Think of your Google My Business profile as an advertisement for your website as well as your business. Getting searchers to click through to your site is an ideal outcome.
You are not the only one who can suggest changes to your listing! Monitor your profile regularly to keep it current and accurate.
2) Be Consistent About NAP Citations
NAP citations are a tremendously powerful tool for local SEO. Search engines will take notice and boost your rankings if your NAP data appears repeatedly — and consistently! — around the Internet.
Wondering what a NAP citation is? "NAP" stands for "Name, Address, Phone Number." A NAP citation is a reference to your business's contact information. NAP citations appear on directory sites (e.g. Yelp or Yellow Pages), as well as pages that discuss your business, like media stories and reviews. Search engines prioritize local businesses based on NAP citations, so you need plenty of them.
Quality is not secondary to quantity here! Your NAP citations are exponentially more powerful if they are consistent. That means not just getting your name, address, and phone number "roughly" similar; you need to strive to make your data the same everywhere it appears. Words should always be capitalized the same way, and you should always use the same contractions and punctuation. There's a small but important difference between "inc" and "Inc.", and it matters in the world of NAP citations!
Of course, you should update or purge older citations if their details are no longer correct. You don't want to send potential customers to where your business used to be!
3) Be Prepared For Voice Searches
With an ever-increasing range of smart devices offering consumers the ability to execute internet searches by voice command, your SEO strategy needs to accommodate this specific form of searching. Your business needs to be visible to people who ask Alex, Siri, or Cortana to find it for them. According to market research from Bright Local, voice search is already a factor in more than half (58%) of local business searches.
The best way to prepare yourself for voice searches is to target long-tail keywords and natural vocal questions in the content on your website. Invest some thought in imagining what kind of questions might lead a voice-search-using customer to your website and make sure you're answering exactly those questions.
If, for instance, you run a bakery in Topeka, it would be a good idea to adjust your website content to score well on the search query "Where can I get a custom cake in Topeka?" (Maybe you post a blog entry with that exact question as its title!) Incorporating voice-friendly search strings like this can improve your Google ranking and connect your business to more customers.
For data-based insight into which search queries you should work on, try using online listening tools such as Answer the Public. This service takes your more basic keywords and phrases and generates the most popular vocal search queries that include them.
4) Don't Be Afraid To Encourage Reviews
One of the key factors Google uses to rank local businesses now is "entity authority." That's technical search engine jargon that amounts to "reputation." What's the best way to boost your business's online reputation? Getting good customer reviews.
Positive customer reviews can be a powerful driver pushing customers toward your business both online and in the real world. From the search engines' perspective, good reviews are the best evidence they have that your business satisfies customers and meets their needs. That means your business deserves to rank at the top of local search results.
You have lots of different strategies that can bring you more customer reviews. You can set up automated emails politely asking order-placing customers to help you out with a review. You could let customers enter a prize drawing after they write a review. And of course, you can always include a personal appeal for a review in direct communications with your customers — in the store, on the phone, or in email exchanges.
There's an often-overlooked benefit to accumulating good reviews. When search engines have reviews to display along with your business on their results pages, your entry takes up more space. A bigger entry gives you a distinct advantage over competitors. And the effect is even more dramatic on the smaller screens of mobile devices.
5) Build Local Links
Link building — the process of cultivating links on other websites that point to your site — remains a fundamental part of the local SEO process. A link, like a review, is a data point that search engines interpret as a point in favor of your reputation. Quality links can push you up the results page.
Just remember that good link building is a two-way street; it's a lot harder to get your links installed on other businesses ' websites if you refuse to place any outbound links on your own. You can get started by linking to reputable websites that are germane to both your industry and your region.
Links also improve your search engine performance because they provide context (geographic and professional) that makes it easier to categorize your business. If your site hosts quality content and links to other sites that do the same within your industry, your online reputation will rise.
It's also worth the effort it takes to forge quid-pro-quo link-sharing arrangements with other local businesses. The advantage of negotiating this kind of "retail" link-building is that you're guaranteed a reciprocal link. And of course, there's always the possibility that linking with popular local sites can send additional traffic your way.
6) Get The Most Out Of Social Media
In local SEO you're looking to get high-quality traffic to your site, and smart social media work can be a big quality booster.
Study your prospective customers and identify the platforms that are most popular with them. That's where you need to focus your social media activity. It doesn't pay to put all your eggs in one basket, though; working on multiple platforms makes you better able to adjust to changing user habits.
Social media activity can also have a direct impact on how search engines rank you. The more platforms you're on, the better your chances of making a positive impression.
7) Use Schema Markup
Schema markup is specialized HTML code that makes it easier for search engines to digest localized information (like addresses, phone numbers, and dates) on your site. Schema markup clarifies the meaning of your content for the search engines.
Using schema markup allows you to influence the way search engines display your business on the results page. Schema markup can, for instance, be used to prompt the inclusion of average review ratings in your search results. Besides the space-taking benefits this can have (see above), it may also encourage prospective customers to visit your site.