Businesses in the UK are migrating to cloud accounting software like bees to honey. And with good reason too. Cloud accounting software helps businesses to improve productivity at the grassroots and mid-level, and also enables fully informed decision-making at the upper echelons of organizational hierarchy. It also makes for more professional processes, particularly in invoicing, payroll, expense approval, and data management.
If you have heard all the buzz around cloud accounting software and are wondering what all the fuss is about, it's about cloud accounting software's ability to improve profitability, thanks to all the amazing benefits that we just discussed.
Let us look at some fundamental differences between cloud accounting software and traditional accounting software.
Where Data is Hosted
Cloud accounting software hosts data on the cloud, whereas traditional accounting software hosts data on physical servers within the office or the location where the business operates.
Costing
Cloud accounting software might seem expensive but what decision-makers need to recognize is that they don't need to own the cloud. You pay rent for your space on the cloud. Moreover, with pay-as-you-go models you pay only a small monthly fee, say about GBP 20 to GBP 50 per month. The upfront costs are practically negligible.
However, setting up traditional servers calls for tremendous upfront investment, as does maintain them.
When you opt for cloud accounting software, on the other hand, maintenance is handled by the service provider.
Security
If you are concerned about security when considering cloud accounting software over traditional accounting software, you are not alone. Here are three points that you should consider:
Cloud accounting service providers invest considerably in maintaining the security of data because any breach would be extremely bad for business.
A lot of the world's biggest companies – even some of your own peers, competitors, and market leaders in your segment – have already migrated to cloud accounting software. These companies are also concerned with data security, but their fears have been allayed by hands-on experience.
Cloud accounting software secures data by the use of firewall – sometimes double firewall – protection.
Productivity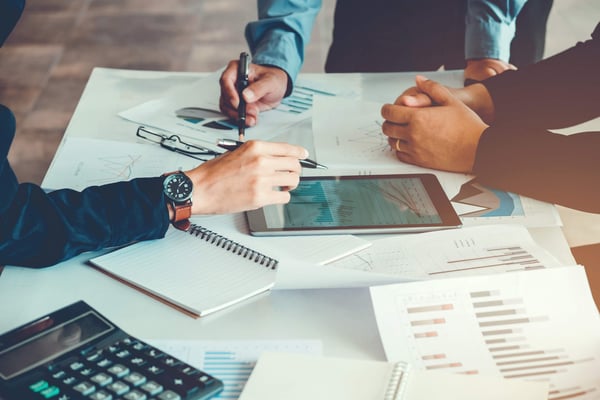 How much time do your people spend on data entry? Sales, marketing, accounting, and HR spend hours and hours manually data into spreadsheets. However, accounting software comes with optical character recognition that can extract data from photos of invoices, bills, and receipts. The system uses an uploaded picture to generate editable digital text that can then be copy-pasted as desired.
Updated Data
Most organizations that use traditional accounting software usually have the accountant deliver a spreadsheet that gives decision-makers insights into key accounting metrics.
Accounting software can have data flow directly and seamlessly from your business bank account to your books when you link the two.
This means that decision-makers no longer need to work out of last week's or last month's data. Your data will always be completely updated..
Accessibility
By being hosted on the cloud and not on a physical server, your (fully up to date) data is accessible from anywhere.
Additionally, most accounting software also packs in a partner app that can be downloaded on the user's smartphone to allow for any time, anywhere, on-the-go access to the company's books.
This is one of the ways in which accounting software is able to contribute to increased productivity – by playing a catalyst to better decision-making.
Insights
In traditional accounting software, masters of data science pore over the data to come up auth fantastic insights. Unfortunately, not everyone is able to trawl through countless lines and columns of data to zero in on places where companies can increase income or cut down spending.
Cloud accounting software offers spontaneous insights from the data – it can tell you where your supply chain leaks are, for example.
Conclusion
These are only a few ways in which cloud accounting software has an edge over traditional accounting software. Get a free trial to test it hands-on.