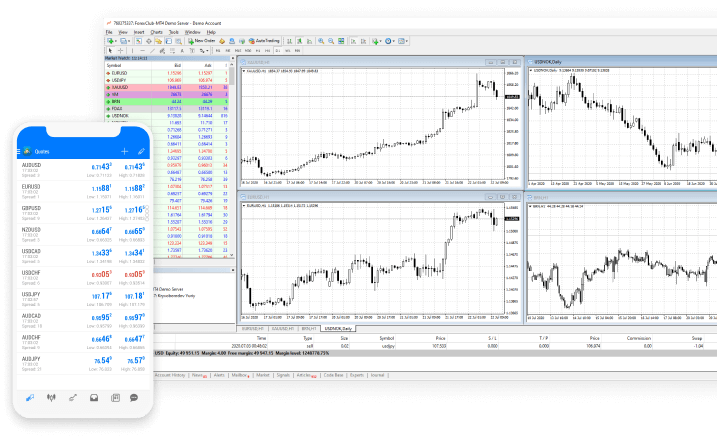 MetaTrader 4 (MT4) is one of the most well-known trading platforms for retail forex trading. It is not tied to one specific brooker. If you want to use the MT4 for forex trading, you have a wide assortment of brokers available to chose from. Some brokers even offer MT4 trading even though they also have their own bespoke proprietary platform available for their clients.
MetaTrader 4 was developed by MetaQuotes Software and released in 2002. When the sequel MetaTrader 5 (MT5) became available, a lot of traders opted to continue to use MT4 so MetaQuotes kept it available. Over the years, the MT4 platform has undergone numerous updates and improvements to keep it current without losing those core elements that forex retail traders love so much.
Is MT4 Only for Forex?
MT4 is strongly associated with forex trading, but you can actually find a lot of other assets and products here, including company shares, futures, commodities, cryptocurrency, and contracts for differences (CFDs). Two examples of available cryptocurrencies are Bitcoin and Ripple.
Is MT4 only Available for Windows?
No, you can download and install the MetaTrader 4 for Windows (7, 8 and 10) or for macOS. It also works with Linux.
Metatrader 4 mobile apps are available for both iOS and Android.
Another option is to use MT4 directly in the web browser.
Getting Started with MT4
Setting up the MetaTrader 4 software on your computer is not difficult if you pay close attention to the on-screen instructions.
At the MetaQuotes website, you can download the software free of charge. Brokers that offer MT4 trading will also, in most cases, provide their clients with a link to download the MT4 software for free.
Since the MT4 software package is rather big, it is available as a zip file that you need to unzip after downloading it.
Personalizing the MT4
When you are logged in to the MT4 plattform, you can adjust the settings to make the platform more suitable for your individual needs and preferences. A wide range of settings can be adjusted, from major ones like chosing between light mode and dark mode, to much more detailed ones such as chart-settings for technical analysis.
A Few basic Tips for Beginners
Get a Demo Account to try out the platform for free using play-money. It is a great way to learn the platform and play around with various techniques and tools without risking any real money. The functionality of a demo account is very similar to a real-money account. You will for instance have access to historical data, expert advisors and indicators even with a demo account, and you can explore copy trading using signals.
Make sure to inform yourself about all costs and fees beforehand, to avoid unpleasant surprises.
To make a trade, select "tools" and then "new order". The order window will open and this is where you adjust the settings for your order and confirm it.
The keyboard shortcut for opening the new order window is F9.
About the Meta Trader 4 Order Window
This is where you pick your market, e.g. forex or commodities.
This is where you select the size for the trade.
This field pertains to order type, not asset type. Chose "instant execution" if you want the order to be placed as soon as you hit buy or sell. Chose "pending order" to select a future point for the order to become active.
A stop-loss is a type of automated order. Put in a stop-loss for an open position if you want a sell-order to happen automatically if the prize goes below a certain point.
This is another type of automated order. Put in a take-profit for an open position if you want a sell-order to happen automatically if the prize goes above a certain point.