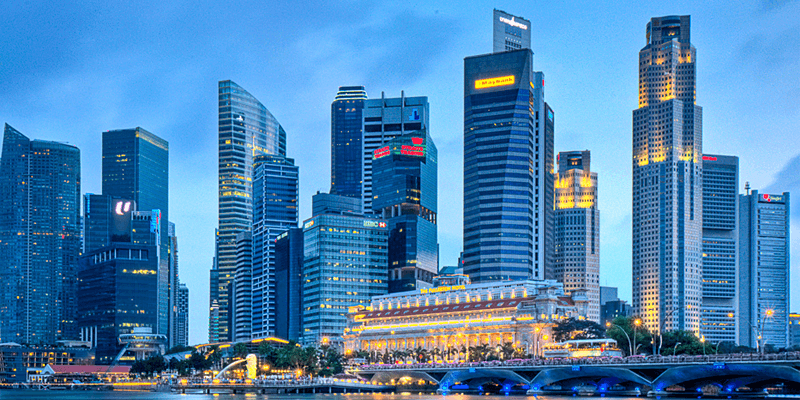 Innovation is a force that pushes growth, improves client experiences, and maintains long-term competitiveness in the dynamic environment of the global financial industry. Singapore, frequently referred to as the financial centre of Asia, has acknowledged the crucial part that entrepreneurs play in igniting innovation. Due to the city-state's progressive mindset, its banks have actively embraced startups, creating strategic alliances that promote technology advancement and transform the financial services industry. The complex relationship between Singapore banks and startups is explored in this article, showcasing the joint initiatives that are bringing the sector into a new era of innovation.
Startups Transforming the Finance Industry
Thanks to their agility, novel viewpoints, and innovative innovations, startups have the financial world's attention. Startups are reinventing conventional banking procedures to make them more effective, secure, and customer-focused. These technologies range from artificial intelligence and blockchain to fintech and regtech. These up-and-coming businesses are well-positioned to fill market gaps, test out ground-breaking concepts, and quickly adjust to shifting customer expectations.
Banking in Singapore: Embracing Innovation
The banking process in Singapore is well-known for its consistency, advanced infrastructure, and regulatory framework. Although these qualities have aided in its development into a significant financial hub, the industry is aware of the need for innovation to thrive in the digital era. Singapore's banks have embraced a culture of working with startups to harness the power of innovation, forging a mutually beneficial partnership.
An Ecosystem of Collaboration that Promotes Innovation
Fintech Hubs and Incubators: Singapore has set up specialised fintech hubs and incubators that give startups a friendly atmosphere in which to think, try new things, and develop. Organisations that serve as catalysts for the connections between startups and banks, investors, and regulatory agencies include the Singapore Fintech Association (SFA) and The FinLab.
Open Innovation Platforms: Many banks in Singapore have embraced open innovation platforms, enabling startups to present their solutions and work together on projects. With the help of these platforms, ideas may be shared in both directions, giving startups and banks access to new information and viewpoints.
Accelerator Programs: Banks have started accelerator programs that give businesses access to their infrastructure, money, and mentorship. Banks learn about cutting-edge technologies and novel business models by supporting entrepreneurs.
Strategic Alliances: Redefining Banking
Digital Transformation: Singapore banks are working with startups to accelerate their digital transformation efforts. Startups are changing the way banks function, from improving customer onboarding procedures to optimising backend operations.
Enhanced Customer Experiences: Thanks to startups, banks can now have personalised and seamless customer experiences. Banks may engage clients more deeply by utilising cutting-edge apps, AI-powered chatbots, and predictive analytics.
Payment Innovations: Banks and entrepreneurs have worked together to develop ground-breaking payment systems. The payments landscape is changing as a result of contactless payments, mobile wallets, and peer-to-peer payment networks.
Regulatory Compliance: Startups in the field of regulatory technology (regtech) are working with banks to improve the compliance process and ensure compliance with constantly changing regulations while reducing operational risks.
Blockchain and cryptocurrencies: Blockchain and cryptocurrency startups are collaborating with banks to investigate secure and open transaction platforms, which could revolutionise international payments and trade finance.
Case Studies: Prominent Partnerships
DBS Bank and Kasisto: Kasisto is an AI-powered conversational platform, and DBS Bank is a significant player in the banking industry in Singapore. The collaboration resulted in the release of "POSB digibank Virtual Assistant," an AI-driven chatbot that helps users manage their accounts through talks in natural language.
United Overseas Bank (UOB) and Personetics: They have teamed up to offer AI-driven personalisation solutions. This partnership led to the development of the UOB Mighty Insights product, which provides customers with individualised financial insights based on their transactional patterns.
OCBC with Bambu: To introduce the OCBC RoboInvest, OCBC Bank worked with Bambu, a robo-advisory platform. Based on their risk profiles and financial objectives, the platform offers users bespoke portfolios and automated investing options.
Support and Incentives for Regulation
The regulatory environment in Singapore is intended to encourage innovation and cooperation between banks and entrepreneurs. Startups have been able to test their solutions while maintaining consumer safety thanks to regulatory sandboxes, which offer a controlled setting for doing so. Additionally, the Financial Sector Technology and Innovation (FSTI) scheme offers financing support for projects that foster innovation in the financial sector. It was created by the Monetary Authority of Singapore (MAS).
Conclusion
The banking industry in Singapore has embraced entrepreneurs, demonstrating the city-state's dedication to progressive development. Banks are utilising startups' flexibility and innovation to redefine the future of finance through strategic alliances, collaborative ecosystems, and regulatory backing. Along with altering banking procedures, these partnerships also improve client experiences, optimise business processes, and ensure long-term competitiveness.
The financial services sector is poised to reach new technical heights as Singapore's banks continue to support startups, which will eventually be advantageous to both industry players and the overall economy. The mutually beneficial partnership between banks and startups is moving Singapore closer to a day when innovation will be the key to long-term success and growth.