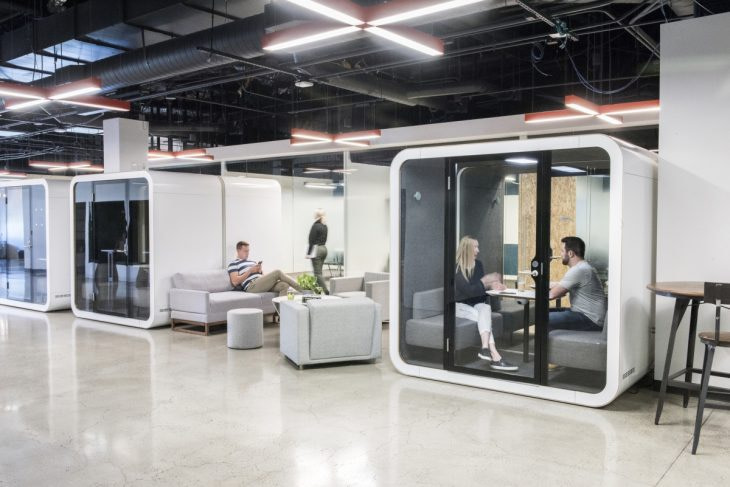 Booths in an office can be used for a number of professional applications, but are most commonly used for meetings. You may do this in an office setting or in a retail setting with clients, coworkers or other trade professionals.
Additionally, they are commonly used by managers to train staff and provide feedback since they provide a professional but unimposing environment.
Group meetings and progress sessions can be conducted in office pods, which offer a space away from the general office population for collaborative work.
Oftentimes, people work better alone, and in this situation, an acoustic office booth is ideal for doing a little work on their own.
Where Can Meeting Booths & Office Pods Be Used?
As the name implies, office pods are most suitable for offices – especially open-plan setups.
However, despite their name, they can be used in many different locations; for example, in retail showrooms, at exhibitions, in school, college, and university libraries, public places such as meeting rooms and information centres, as well as in call centers and staff rooms.
How Do Office Pods Benefit You?
The most notable benefit of meeting booths is their privacy and seclusion, as they provide a breakaway area in crowded offices.
Sound-absorbing office screens are used in our acoustic meeting pods to minimize noise pollution and create a quieter working environment. Concentration and productivity are boosted as a result.
Due to their being made of office screens, our range of meeting pods are safe for use with pins and Velcro, so you can attach notices and leaflets to your booth to facilitate meetings and group work.
The freestanding screens are easily assembled table and – should the need arise – can be moved between locations.
Meeting pods can be customized by adding to them and changing the layout, as well as choosing the fabric colour that best suits your business.
We offer an affordable alternative to custom-built meeting booths for smaller businesses and organizations with a smaller budget compared to custom-built meeting booths.
Types Of Office Pods
Round Office Pods
Various shapes and sizes of curved meeting pods are available. A circular table with two to five chairs can be accommodated in a pod ranging in width from 1.7m to 3m.
Singular meeting units work particularly well in showrooms and other areas where greater privacy is required.
Meeting booths are made up of freestanding curved office partitions.
Linking and finishing strips are included with each screen. By sliding the linking strips down the sides of the screens, you can link several partitions together. As the finishing strips are used to create a refined edge on the screens that make up the pod's entrance, they can also be used on the two entrance screens.
You can choose 12 bright fabric colours and two trim colours, so you can find the perfect match for your brand.
S-Shaped Office Screens
We offer two different sizes of S-shaped office screen partitions: 4.8m and 6m.
Two separate areas are created by the undulating shape, making it ideal for larger spaces like libraries and universities.
The S-shaped meeting booths are made of several floor-standing office dividers that are connected to each other.
Just like our circular meeting pods, our S-shaped office partitions are available with both linking and finishing strips.
Select one of two trim options to complete your S-Shaped meeting pod from the same range of 12 fabric colors.
Non-Acoustic Office Partitions
The round and S-shaped office booths are available in both acoustic and non-acoustic varieties.
Smaller offices with fewer people are better suited for non-acoustic meeting booths. They don't have sound-absorbing properties, so they will not be as effective at reducing noise pollution and increasing concentration in busier areas.
A core substrate board is wrapped in a luxury loop nylon fabric to create the non-acoustic office screens.